So this was an eventful episode! Car crashes, flashbacks, road trips, oh my! Got to admit, I had more problems with this episode than the last few, but it was definitely important, and moved things along in the direction I think we all know they're headed.
My favorite character moment of the episode goes to Celeste- you can see her close off as the therapist begins to ask questions she's not okay with. When the therapist asks why she stays with him, she sees herself comforting Perry after he assaults her. Seeing his "remorse" is her justification for staying with him. She makes all kinds of excuses, his being a good parent, his love for her, his staying by her side. But even Celeste doesn't seem to believe what she's saying. The scenes with the therapist are genius, and I think they'll be further explored in interesting ways in the next two episodes. The most pragmatic part of the Celeste scenes was her greeting Perry at the airport- he cries, kisses her fiercely, and their kids look on. It's another reminder that she's still trapped, not done quite yet.  
The Madeline subplot feels kind of contrived- like, okay, there have been some hints that the director guy has a thing for her, but aside from her passion for theater, we've seen little indication that she has interest in him. I can see her losing control and using someone who clearly desires her , but I'm not sure she'd leave the affair unresolved- Maddie's an anxious person. The car crash is a catalyst for the spouses to start asking questions, and to put Madeline back on track in the life she wants for herself, or seems to. Her marriage is pretty glass house-y, so we'll see how this develops further. My hypothesis is that either she and Ben will break up as a result of her affair, or nothing will happen and they'll continue to live in an uneasy, semi-satisfying relationship. I feel like this subplot was created to give Maddie more to do outside of her problems with her daughter, her ex, and his new family.
Jane had an eventful episode- her PTSD is really well done, but I feel like she needs to be seeking help outside of emotional runs on the beach. Her biggest priority is being a good mom and taking care of her son and herself- and not dealing with her PTSD is hurting them both. At this point, I'm pretty convinced that Ziggy didn't hurt Amabella- there's some other culprit at play here. Maybe it's her dad? Eh. I need more data. I'm having problems with Renata Klein. I just don't think any reasonable woman would treat another mom like that, even one who she thinks is responsible for the child who is hurting her daughter. I also feel like Renata is another example of the hysterical Jewish mom, which is a trope I would like to see die. Sure, she's right to be concerned about her daughter, but Jane is being a better mom. Jane took her son to a child psychologist, who told her what she needed to know. She trusted her son, and confirmed what he told her with as much science as you can. All Renata is doing is yelling at anyone who will listen, her husband, her daughter, the school's administration and Jane. That's just not productive behavior.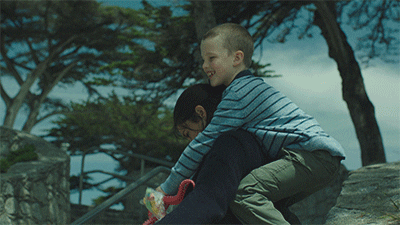 Side note, where did Jane get all that pot? Maybe she is getting treatment for her PTSD. I get her driving down to confront her potential attacker on her own. The women going with her was a nice idea, but this is something she was always going to do on her own. Whether or not he was truly her rapist, Jane's reaction to him shows that she's not done dealing with her assault.
With only two episodes left, the show has a lot of threads to tie up. I don't think we're going to find out the murderer and the murdered until the finale, but the dissolution of Celeste and Perry's marriage and Jane's rapist have to be revealed in the next two episodes. Hopefully, we will be getting more of the great stuff we've been seeing so far, and it will be resolved satisfactorily. We'll see in tonight's episode . . .