I set low expectations when I sat down to watch Katherine Ryan's In Trouble. I am a student of the genre and I like to think I'm open minded, but there's a quiet sexism that's embedded in us all. Still, I like to give everyone a chance, and especially the few women who find success in such a male dominated industry. The thing is, In Trouble doesn't need my condescension. It's brilliant, maybe the best performance I've seen out this year.
There isn't a flat moment in the whole special, but Ryan's clear strength is in story -telling, and form. She connects all of the threads of her story, working her jokes in with grace and dexterity. Her delivery is spot on, and her crowd work is the best I've seen in years. I saw a similar attempt in Michael Che's Michael Che Matters last year, but like a lot of comics, Che used the audience to bounce jokes off of. That's fine, and it works. But Ryan, ahhh. Her crowd work is a conversation, with the audience and the viewer. It makes her stories more vibrant, she brings us into her vision of that moment. The moments when she talks to the audience, listens and then responds to them, are some of the best in the hour.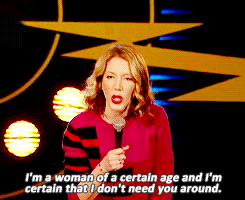 Ryan doesn't overshare, her personal details are relevant and funny, and her description of her family is a winning bit. Ryan describes her family with a degree of empathy, and manages to describe their peculiarities with a tone of semi-tolerance. She manages almost the impossible, acting authentic in some places and exaggerated in others. Her racial humor is hilarious, without offending this Jew, and her jokes about Canada and America were spot on. When Ryan talks about the women from her hometown who tormented her when they were young, you see them. You know these women, they're from your hometown too. Her description of her relationship with her sister is sweet, and funny. Their closeness leaves plenty of room for comedy and jokes about the middle child, which were everything.
If you're a fan of comedy, watch this. If you're a fan of women, watch this. If you're a fan of humans, watch this. Just watch this. It's available on Netflix, and it's worth your time.