So far, there are four episodes of Big Little Lies that have aired, to wide acclaim. The show has everything that the viewing public like, dramatic parents, funny kids and dysfunctional marriages. Couple that with the sheer star power of the cast, and it was sure to be a hit. BLL has far more than just these things going for it, the editing is fantastic, the kids are great, and the music is perfect. However, the real standout of the show are the female characters, who take center stage. They are all complicated, complex and flawed, and they feel real.
Reese Witherspoon shines as Madeline Mackenzie, a stay-at-home mom with a teenager from her first ill-fated marriage, and a first-grader with an ear for music. Her part time gig at the local community theatre gives her an artistic outlet outside being sarcastic with her friends. She's strong, and opinionated, and funny. She is intrinsically flawed, like any real person. Madeline is more than a little self centered, brash, and short-sighted, but her good heart overcomes most of these tendencies. Her history is less than spotless, her failed marriage has left her a bit bitter and more than a little sore at her ex-husband.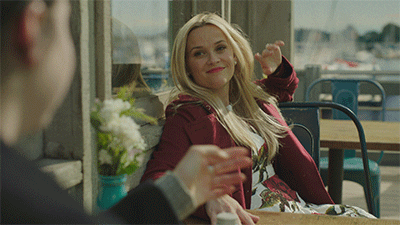 Said ex is married to Bonnie now, played perfectly by Zoe Kravitz, and has a daughter in the same class as Madeline's younger daughter. The two little girls seem to understand the situation pretty well, and get along much better than their parents do. Madeline resents that her ex, Nathan, is making more of an effort with Bonnie than she perceived he did with her during their marriage. Bonnie is just the kind of second wife you don't want for your ex, she's young, fit, a model citizen and just as sweet as sugar.
Celeste Wright is played by the incomparable Nicole Kidman, who is apparently ageless. Celeste is a full-time mom who was once a shark lawyer, now devoting her days to her twin boys. Her husband Perry is portrayed by the always delightful Alexander Skarsgård, who has perfected the quiet scary voice, and is abusive. He executes the movements of an abusive personality in imperceptible little ways, from his hunched shoulders to the slight threat in his voice. Kidman's movements shadow his almost exactly, retreating as he approaches. She tries to head off arguments at the pass, but she knows the cycle. When she talks to Madeline, her best friend, about it, she eliminates the violence from her narrative. When she goes to therapy with Perry, she lets him set the tone, lets him decide how honest they're going to be. Even when they have sex, the signs of his abuse are clear on her body, as evidenced by his finger prints in bruises on her arm. It will be interesting to see how Celeste goes about getting her power back.
Shailene Woodley appears as young mom Jane Chapman, rape victim and mother to Ziggy, a part she carries pretty well despite her relative youth. Jane is a recent transplant to the area, but it's still a bit unclear as to why she moved away from her parents and to an unfamiliar area. She repeats a few times too often that it's to help Ziggy, but it's anyone's guess. A bigger mystery would be the identity of Jane's rapist, and the father of her son, and how it ties into the murder mystery unfolding episode by episode.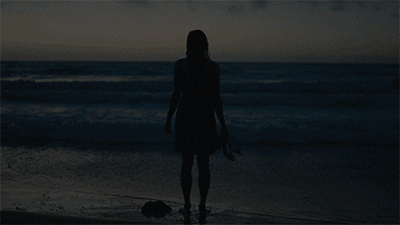 The larger arc is the mystery murder: the mystery being both the victim and the murderer, or murderers. It seems likely that the murderer or the murdered is probably Celeste or Perry. The largest fault of the series is the slightness of the police investigation scenes. The editing is just fine, but the detectives and interrogators are not fleshed out. Hopefully, we'll see more over the course of the mini-series. Overall, a great beginning.