The season two finale of Jane the Virgin aired more than a month ago, but we're still not over it. A lot has changed in the last season, and there's so much to cover, so let's begin.
Mateo is one, and adorable. Jane becoming a mom and coming to terms with her new life was the central theme of season two, and the show was really successful in conveying its message: every mom is different, no mom is perfect. Seeing Petra become a mother this season was pretty amusing, and the relationships between the Villanueva women are always fascinating. The center of Jane has always been family, and it has remained the core strength of the show.
The romance in Jane the Virgin has always been flawless, but this season failed to win me over entirely. Jane's ill-fated attempt at internet dating aside, her failed liaison with her academic advisor derails half of the season. I love her new advisor, but Jane is, above all, practical. No way does she try to get with the guy who has her future in his hands. Jane is a romantic, but she isn't stupid. It just isn't believable that her character would throw away a good student-teacher relationship because she thinks he might have a thing for her.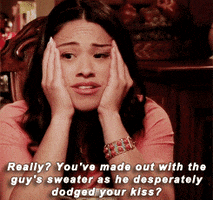 Watching Ro and Xo dance around each other this season, both literally and figuratively, has been entertaining, but the two reached a breaking point this season, resolving their differences pretty satisfactorily in the finale: Ro wants more kids, Xo does not. Every kid dreams of their estranged parents getting back together, but it's not to be. It makes decent sense, Rogelio is still very much the young man. He has his moments of darkness, and a complicated life, but he has the fresh, childlike excitement of a younger man. Xiomara is just as youthful and lively, but more serious. She sees things as they are, and she and Rogelio want different things. Xo not wanting more kids, even with a man she loves, makes sense too. She was still a kid when she got pregnant, and she hasn't had the easiest life. Wanting to spend the rest of her life focusing on her goals is something her character would want.
There were approximately  a hundred dramatic reveals in the last few minutes of episode 44, a typical day in Miami with Jane and the Villanueva clan. First of all, Sin Rostro faked her own death, Rose is alive and has been posing as the folksy Susanna, Michael's partner. As fast as Michael got fired, he was rehired at the department when he had a break in the case. Don't ask me how that works. Rose shoots Michael when he figures out that she's a fraud, and we're left not knowing his fate. Rose asks Luisa to run away with her, citing their true love in spite of their differences, those including that she kidnapped Luisa's nephew and killed her father. We also see Xiomara staring at a positive pregnancy test in horror, leaving her future in question. Finally, Anezka, Petra's twin sister finally shows her hand, drugging Petra and putting her in the hospital, taking her place. Posing as Petra, Anezka seduces Raphael, leaving her plan somewhat unclear.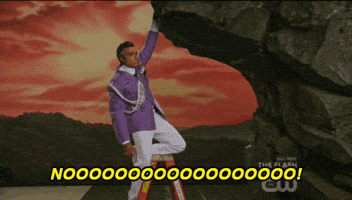 Now to unpack this whole mess. Jane and Michael just had their fairy-tale wedding, and now his life is in jeopardy. There are two ways this could go, to my mind. Michael could be dead, or he could end up in intensive care, unresponsive, to give Rose and Luisa time to get away. I have no doubt that Luisa will chose to run away with Rose, her decision making is pretty much universally terrible.
Raphael letting Jane go without trying to win her back shows how he has developed as a character, he loves Jane enough to want her to be happy, even with another man. We've seen Raphael jealous, petty, selfish, and, at his worst, shady. He still has a ways to go in terms of growing up, but he's getting closer to being worthy of Jane. It seems obvious to me that Jane and Raphael are end-game for the show. The plot of the show got them together flawlessly, then drew them apart just as well. They need to walk away from each other before they can be happy together. Raphael has become a better man through loving Jane, and Jane has become a better person having been challenged by Raphael's complexities. Michael is a simple character, lawful good. He is the right choice for Jane to make, but he isn't her destiny. True love is complicated, and what Jane and Michael had was pure, and sweet, what first love should be. But Jane and Raphael have a future together, Michael only would hold Jane back from her true potential for greatness. However, Jane and Raphael can't be together until they meet on even footing, as equals. He has always had the upper hand on her, he's older, he has money, and worldly influence. Jane fundamentally cannot be with him with such a gulf of differences between them, we saw the fissures in their relationship forming due to those differences last season. This next season will hopefully be about Jane becoming the successful, powerful woman she has the potential to be. Once we see that, hopefully Jane and Raphael can begin to detangle the complications in their lives and make their way back to each other, to be a family.
Xiomara's path seems pretty clear. The pregnancy is something I wasn't expecting, and it will make things difficult for Xiomara early in the season, but it seems obvious that she's going to get an abortion. She doesn't want more kids, and it seems likely that Rogelio's telenovela rival is the one who got her pregnant. That being said, nothing is certain when it comes to Jane. 
When it comes to Petra, I've generally lost interest. Her issues with her mother have been played out over the last two seasons, and having her in jail honestly has been a relief. Anezka being in league with Magda seems out of character, but we really can't put anything past her. Nothing about Anezka can be trusted, since she's been a double agent this whole time. She is an unknown commodity. I think it's safe to say that she's got it bad for Raphael, but other than that, she seems to have been acting a part for the entirety of her time in the lives of the Solano-Villanueva family. She probably is going to pose as Petra for the foreseeable future, possibly to get the charges against Magda dropped. The twin trope should probably be retired after this season though, because so far we've had four sets of identical twins on the show and that's just a bit much. Any more and they should probably test the water supply, because there's gotta be something in it.
Wow, that was a lot. Never will the Jane the Virgin team be accused of a dull moment. I'm not making any bets, but I think my theories have some merit. Jane has never been predictable, but in order for the plot to move forward, I think at least some of these things gotta go down. Hopefully, we won't suffer any more broken hearts, but given Jane's track record, I think it's highly unlikely that any of the characters get through the next season unscathed.