This season of the Vampire Diaries has been rocky. The question is, can the next four episodes redeem a slightly predictable and definitely drawn out season? And what about the departure of Nina Dobrev? How will the show refocus after Elena departs our screens, and what does it mean for our favorite vampire brothers?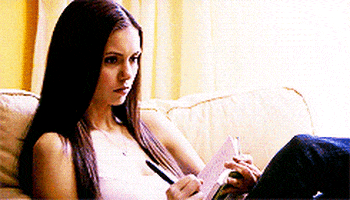 Elena was once a very compelling character, and our perception of her has usually reflected that. She was moody, but still engaged, she based a lot of her self-worth on friends who loved her, but also had a really introspective side she exposed in her extensive and personal diary entries. It's been a while since we saw her write in one of these, so it would be nice to see Elena say good-bye with the show's eponymous diaries. Elena's character was sometimes far too concentrated in her dating life, in her relationship with Stephan and then with Damon. Not that we don't love both couples, but Elena does spend entirely too much worrying about her boyfriends, talking about her boyfriends, getting into near death situations with her boyfriends. Girl gets way too involved way too fast. But it's okay. We love her. So it's fine. We pretty much forgive Elena anything because we fall in love with her as a character. She's sweet, and funny, and kind. She's a good girl who falls into  life she doesn't deserve. All Elena really needed to be happy was her family, and her little town, and her friends. She was simple, but smart, and had any number of other good qualities that would have given her a great life. Unfortunately, that wasn't to be, at least until now. Maybe this new cure from our friendly neighborhood parallel world will mean that she can find happiness with a normal, human life. That's what episode eighteen seems to be pushing towards, and I think I'd be happy about it, depending on how they spin it.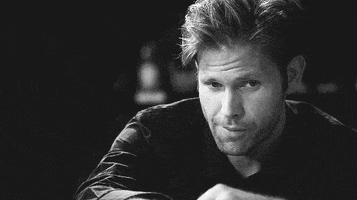 The redeeming factor this season has been the return of Alaric, who has always been missed, both within the show and by fans. I also am in love with his relationship with Jo, who has really been a draw for me this season. Jo is everything this season needed, a driven, beautiful career woman who is pure awesome. They did get pregnant mighty fast, considering she's a frigging doctor, but I'll take it. A new baby is exciting news for Mystic Falls, considering how high the death toll has been in the last five years. I was actually curious about how many deaths relative to the population of Mystic Falls have occurred in the last two seasons, so I did some math. The population of Mystic Falls is approximately 6,923 people. I painstakingly added up the deaths from the first five seasons of the show, and it comes to around 240 deaths. This is around 3.5% of the town. So that's a thing. Fun facts. I did a little more math, and figured out one in twenty-eight point eight people in Mystic Falls die. So they really shouldn't put that in their tourist pamphlets. But we should probably get back on task! This season overall has been a pretty fun ride- as much as you can expect from it. In terms of grades, let's take a little look. Suspense – as usual, TVD doesn't disappoint here. I'd give them an A- for this season's cliffhangers, they've been just as compelling and crazy as usual. I can only hope that they don't go as nuts as they did last season. Romance – I'll let the whole contrived Delena stupidity slide because I'm glad that they finally did something with all of that Steroline tension that's been building for seasons. However, I cannot forgive the disaster that was Liv and Tyler. I wanted to like it, I really did, and there were some great moments between them, but nothing about their relationship made that much sense. So, for this season, a B-. B-Plots – I liked the Sarah Salvatore thing, but it needed more juice and Enzo in general just seems to be lacking direction lately. Enzo had lots of great motivation and excitement last season and earlier this season, but if he's going to remain relevant he needs more. I continue to love Matt, I mean, how could you not, but he needs more too. The Gemini Coven was a fun time, so meh. It didn't suck. B. Character Development – Elena's struggle to find out what she wants and forge an identify as an adult is realistic and fresh, but Matt and Tyler are criminally underutilized in this season, mostly to give Enzo's weird revenge more screen time. Matt and Tyler are living in stasis, which is finally, though barely addressed. Caroline's emotional journey this season was a great example of TVD's ability to utterly break our hearts. Damon's emotional arch has also been great, and his new friendship with Bonnie really adds new dimensions to a character that really needs to be continually redeemed. Damon has really done some good stuff this season. So yeah, B. Overall, these last eighteen episodes have earned this season a B. I think that's fair, as this has been a relatively strong season, with great potential for a smashing season finale. I will dearly miss Nina Dobrev, and the many characters she portrays, but she a lovely and talented actress who will be successful elsewhere and needs to go do her own thing. I really hope that Elena's ending will be an exciting one, and one worthy of her and all of the work that has taken to get the show where it is.
See you soon, Mystic Falls!